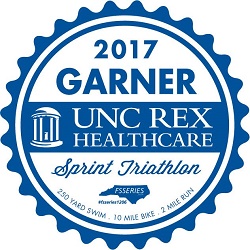 With race season in full bloom, I decided to get out and participate in one. I signed up for Rex Garner. The Rex series has 3 races in Garner, Knightdale, and Wakefield. This year FS Series offered medals for completing each race. Previously you had to complete all 3 to get the medal. This new incentive is what motivated me to sign up. This would be my first triathlon that I would wear my TIFL TRI suit.
Let me give you some history of the TIFL TRI suit. In 2014, as an athlete with TIFL there are training days where sample TRI kits are available to try on. Unfortunately, they did not have the fluffy sizes available. I've mentioned this to a few folks. Thankfully my concerns reached the gear guru in Charlotte Laurie Hardin. In 2016, she sent a fluffy TIFL TRI suit via Angel Chappell-Jonas to Virginia Beach for me to try on. Angel gives me strict instructions on how to try the suit as she does not want me to rip the suit and then it will be mine regardless if it fits or not. You know the old saying "You break it you buy it". My mom is with me in Virginia Beach for Shamrock. She watches me try on the TRI suit. Both legs are in and then I try to zip it up and there in lies the problem. My double decker pound cake is having an intense argument with the zipper. The zipper is winning. I realize that I can make the TRI suit work but I need to go visit the drill sergeant at Planet Fitness and put it in some real work. In 2016, I was signed up for Ramblin Rose Huntersville. I finally decided to purchase my very first TIFL TRI suit to race in at Huntersville. Unfortunately, the race was the same weekend that Tuskegee was playing FAMU in an HBCU classic game in Mobile. After a conversation with my dad who teased me about all the family that was coming down for the game, I decided to forgo racing and headed to the home-state. The TRI suit has been eagerly waiting to make an appearance since. On Sunday, July 23, the TRI suit made its first race appearance at the Rex Garner sprint.
One of my new TRI sisters, Terasina Tisdale Azor, asked me to ride with her on the Garner bike course to check it out before she decides to commit to the race. Always a mentor, I told her I would. We would meet on Sunday mornings to ride the course. Then we would be joined by other TRI sisters. I was familiar with the 10-mile bike course by race day because I had ridden it a few times.
Race morning arrived and I had woken up way before my alarm went off at 4:30am. This is typical race day behavior. The race director recommended that participants arrive at 5:30am for the race. Some folks were not understanding that recommendation since the race did not start until 7am. I'm one of those folks who like to arrive early so I can find a prime parking spot. Lazy Johanna doesn't like to have to walk far after finishing a race. The other benefit of arriving early is you get 1st dibs on rack placement.
I arrive in Garner about 5:25am. I see one of my TRI sisters, Narjis Bennis, as I was parking. This was her first race. I was very excited for. As I got out the car, she told me "Jo if you didn't show up, I was going home." I just laughed. I told her we here now, no turning back. We grab all our stuff and head over to transition. We run into another TRI sister, Suzy Stiegelmeyer, this is her first TRI as well. I find my bib number on the bike rack and rack blue thunder and set up my towel.
I grab my race bib and head over to get my timing chip and get body marked. What I like about this race is that Rex Wellness is open and they are allowing us to use their locker rooms. SCORE baby, no outside bathroom for me. I enjoy the AC inside Rex Wellness because it is already humid outside. This is going to be a hot one. Narjis and I head back over to transition. Folks are slowly rolling into transition. More of my TRI sisters are coming in and setting up their area. It is official race day. We are hanging out in transition until it closes. As I am putting some food in my system, one of my new TRI sisters, Juanyetta Beasley, walks over to me and hands me a copy of my book and a sharpie and asks me to sign it for her. Do you know how happy that made me 🙂 Just in case you have been living under a rock and not aware that Power of the Turtle is currently available in paperback and e-book on Amazon. Buy yours today. Book signings coming soon. Stay tuned.
It is starting to get close to 6:45 when the transition area will close so we grab our swim gear and head out of transition. I opt to walk barefoot because I am not trying to have my Oofos taken away from me. I love me some Oofos. They rock. Try you a pair today. As we are leaving transition, some ladies walk up to me and ask about the relay logistics. Just call me the race tour guide. I explain that transition closes at 6:45 but will open back up as soon as the first swimmer comes out. They were very thankful that I explained that to them. SN:the race meeting on Saturday is beneficial for first-time participants.
The race director starts to make pre race announcements. They are allowing folks who feel they will need extra time to finish the course to swim first before the elites. Terasina and Narjis head in to start their swim time early. I should have done the same thing as I reflect back. You can't cry over spilled milk. I hang outside the wellness center. We are around the back where you can see folks come out from the swim. This is pretty cool to see the other folks finish their swim. The waiting around is slightly nerve-racking. Rex pool is small so the swim portion takes some time. There are only 5 lanes compared to the 10 lanes I'm used to at Ramblin Rose Raleigh and Huntersville.
I decide to head on inside the wellness center and line up for the swim. There are still a lot of folks waiting to start the swim. I get in line and wait for my turn. We line up in the pool and walk through the pool to the end of the 1st lane. The race director indicated the pootemperaturere was in the 80s. Once I got in the pool the water was very cool and refreshing. I did not want to get out the pool. Soon I am at the end of the lane and the RD is telling me to start I am off to do the 250 yards. I was not ready for the bottleneck that is in the pool. I maneuver through the bottleneck but it is affecting my breathing. I push on through and then I am out the pool. Bye cool water. I head out of the pool area.
I see Alexis, Clar and Kim cheering me on. I make my way to transition. I work to put on dry socks on completely wet feet. This is a true sport. Then I put on my cycling shoes, Camelback, helmet and cycling gloves. Blue thunder is off the rack. I head out of transition and towards the mount line. The volunteer tells me to mount my bike. Right as I get on, my chip strap comes off. It will not stay on. Hello swollen ankles!!. I grab the chip strap and slid in between the girls. It is not going anwhere now. I head out. Right turn out the parking lot and right turn onto Timber Drive. I'm still feeling cool from the pool. This is going to be great. Make the U turn at the end of Timber and head out on Timber. Garner PD is out in full force at each intersection holding back traffic. Thank you very much!! I cross over White Oak and head down the first downhill. I am a downhill enthusiast. I LOVE downhill. It rocks. I'm discovering that there are a few things I should do on the downhill to keep that momentum going to get me up the following hill.  I shall work on that in the future. I pass another intersection. The out portion of the bike course is shady which I am enjoying. I have water in my camelback, electrolytes in 1 bottle on the bike and pickle juice in a 2nd bottle on the bike. A sister is ready. I am rolling along on timber drive. I hear a car approaching in the left lane and i hear a cowbell ringing and I hear a voice yell "go jo". It's the TIFL bike course cheer van Alexis and Clar. Encouraging and motivating words help so much when you are out on the race. Thank you Alexis and Clar!! I know the intersections and landmarks. I finally see the Rite Aid, that's the last intersection. I know the turnaround is coming. I get over into the left lane after I pass the Garner PD car. Special shout out to the female Garner PD who was putting motorists in check about waiting in the lane until we got over. That chick was hard-core and i loved it. I get into the left lane and head to the turnaround. I head back toward Rex Wellness. Alexis and Clar are on the corner taking pictures.
I yell out "Where's the hype music?" You need tunes out here in these streets. I intentionally left my iPhone in transition because I am obeying all the USAT rules. I keep riding on Timber. I get to the 2nd to the last hill. I shall call it the McDonald's hill. I see a lady stopped on the sidewalk. I decided to walk this hill. I ask if she's ok. She is in need of water as she doesn't have any with her. We walk up the hill. As I pass the Mickey D's I really want to slide on in there and get a large sweet tea and a McGriddle. I have no cash on me and there are no detours today. Later MCD! After I make it to the top of the hill, Garner PD is holding traffic to get me across. The volunteer is congratulating me on making it up that hill. I get back on blue thunder and head on back. There is one last hill before the white oak intersection. I've been using a method of counting the sidewalk cracks as I pedal up the hill. This method is still working for me. I cross over White Oak. I see my TRI sister Cynthia Gary on the run course. I ask her "do you want to switch places?" She laughs at me. I pass the Burlington coat factory on my right and a volunteer tells me you are almost there. I really am. I make that last righ turn. I head up the slight incline I see the Tribe is there on the corner in full force cheering. Having folks cheer you on makes a huge difference. I make the last left turn and head to the dismount. I get off my bike. I am so HAPPY to be done with the bike course. I really felt the heat coming back after the turnaround. I rack my bike and put on my running shoes. I can feel how hot I am. It's not good. I grab my cooling towel and put it on. Karen Young walks up to me and gives me some ice to put in my bra. I put on my visor and grab my other water bottle that has water in it. I eat some Cliff chews with the extra sodium because I know I have lost alot of water. I put on my race belt and somehow make my way out of transition and head out on the run course. As I start the run course I feel the full force of the hot temperatures. I get to the first corner and I am wheezing. This is the same thing that happened in Richmond twice and what happened in Nassau in January. A volunteer walks over to me and calls me down with my breathing. The tribe brings me a cool towel and water to cool me down. Alexis tells me "Jo i'm going to be inconegro and walk with you" I really appreciate it because I will probably not make it. We head out on the run course. It goes the same route as the beginning of the bike course. We make the turnaround and head down Timber. As we pass by the entrance to the Wellness center, Shelley walks over and joins us. I am grateful for the company. The 3 of us are walking together. As we pass the entrance to the movie theater, I tell Alexis tall drink is coming. He's driving up on the other side of Timber. I tell him to park and come walk with us. The drill sergeant is going to push me to finish. He will not allow me to DNF or pass out. He will get a call from Alabama and it won't be good. We walk a little bit further and I really feel like turning around. Tall drink makes it to us. Kim and Janet are out with us as well. I want to turn around. Tall drink tells me to "Come on". He knows I hate those words. We head to the turnaround at White Oak. The volunteers have cool wet towels, water, ice and gatorade. They are a God send. Tall drink splashes me with ice cold water. I am so not ready for it. Man it feels good. We leave the turnaround and head back. Every now and then I get winded and have to stop. Garner PD rolls by and ask if I need a ride. I tell him no i am not getting in that car. Thanks for asking. FS Series SAG rides by and checks on us. I tell them no i am not getting in there. At this point, I could have gotten in the SAG but I have written that song before and I don't want to sing the SAG song today. We keep walking with me taking breaks as I need them. We make it right across from the entrance to the wellness center. I want to make a beeline and head on back. Alexis tells me to walk to the next corner. I knew what that slick rascal was up to. I appreciate it. Thanks Alexis! Tall drink told me I was not cutting any corners today. Sometimes I don't like him. We walk down to the end of Timber and make the turnaround. I look over and can see the finish line is till up. It is the absolute worst feeling to be the last one to finish a race and they have taken down the finish line. Or worst they are out of medals. Both have happened to me before. It's in the book. Check it out :-).
We make the left into the Wellness center and we are going up the sidewalk.
Would you believe all of the TRIBE is still there waiting for me??? They are cheering me on. I make that last left turn. Tall drink hangs over on the side. I hear them call my number. I am so happy to be almost done. I see Rhonda at the finish line. As I get closer, I decide to run it in. I have not DONE that since Chapel Hill in 2014. Who are we? Triathletes What do we do? Finish Strong. That's exactly what I did I finished strong.
Thank you to each and everyone in the tribe who was out there cheering me on and that walked with me during the HOTTEST 2 miles of my life!!!! It takes a tribe! Mine is the best!!